Jim French, Chief Operating Officer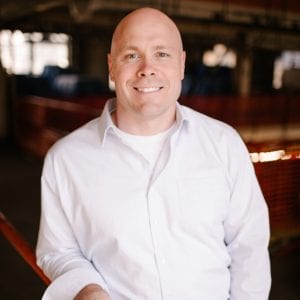 "I'm driven by complex project challenges that take a full team to solve. I am naturally a very competitive person and love to be around others that push me to do my best. I'm lucky to work with an aggressive and fun group of talented professionals. We push each other constantly which enables us to bring unique solutions to our project teams."
-Jim French, COO
For more than 12 years, Jim has brought an attitude of flexibility and open communication to the team. His natural ability to lead has enabled LS Black to continue to attract and retain a group of talented project staff that work in an open book, honest and full-hearted manner to build a culture of teamwork and collaboration. Prior to joining the LS Black team, Jim worked in the design and architectural field, and holds a Bachelor's Degree in Architecture from the University of Minnesota. Jim has experience managing projects of all types and sizes, with a focus on projects within the Federal market. In his free time, Jim enjoys spending time outdoors with his friends and family, going bow hunting and relaxing at his cabin.
Our people are empowered to drive and execute on our committment to excellence, meaning you won't just get a builder, you'll get a true partner.
If you're looking for a career in the construction industry with an employer who offers opportunity for growth, and will push you to be your best, LS Black Constructors is the place for you.