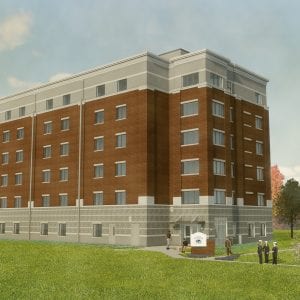 Owner: US Naval Facilities Engineering Command
Architect: LHB, Inc.
Location: Kittery, ME
Size: 52,500 SF
Value: $17,050,000
Delivery Method: Design-Build
Together, with Loeffel Construction (LSB+LC Joint Venture), this design-build project includes a six-story, 55-room (110 beds) housing complex at Portsmouth Naval Ship Yard in Kittery, Maine. The dormitory consists of a structural steel frame and brick veneer exterior over metal studs. Work is taking place on a tight site with shallow foundations and includes the demolition of two existing buildings. The facility is designed to meet LEED Silver Certification.