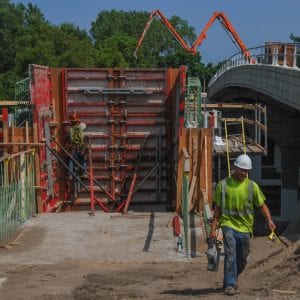 "At LS Black, we approach safety as a "capacity", where our focus on communication, job hazard analysis, on-going education, and understanding of human error are all integrated into our planning and execution process. "
-John Urban, Safety Director 
At LS Black Constructors, we work hard to achieve an injury and accident free workplace. For more than forty years, we have recognized the value of performing work safely. Today, we employ a full-time safety director who is responsible for continuously building and improving upon our safety program and culture. In addition to our full-time safety director, we also have more than five, full-time project specific site safety and health officers serving as subject matter experts and providing oversight to work operations.
As part of our operation we incorporate:
A project specific safety plan thoroughly developed during the preconstruction phase
The use of leading indicators to help drive safe behaviors
Educating LS Black employees on modern safety prevention (i.e. swiss cheese model, understanding safety principles, human error, etc.)
A post-job debrief injury prevention tool that focuses on work surprises, hazards identified and missed, and any improvisations that were necessary
Safety Perception Surveys
Specific safety training on topics such as fall protection, crane operation, excavation, hazards and analysis, etc.
Weekly on-site "tool-box talks" attended by all on-site personnel
An iPad application called "Field View", used by our field staff to track safety goals, inspection performance, and maintain accountability
Monthly safety audits, performed by our corporate safety director on every project

Weekly safety audits conducted by our on-site superintendent and/or site safety and health officer
At LS Black Constructors, our view of a successful project is one that is safe, high-quality and meets the goals of all project stakeholders. The attention and energy we put toward safety adds value and produces positive results that lead to reducing injuries. When safety is properly managed and communication is maximized, hazards are identified and controlled. This proactive approach allows us to be confident when we say we are built for any challenge!
get in touch with OUR SAFETY team