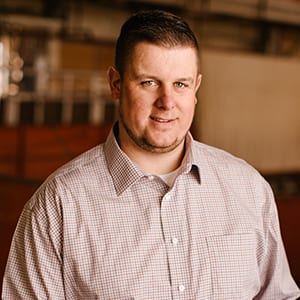 Employee Update
By Taylor Green, Marketing Specialist
Powell Joins a Growing Industry of Design-Build Professionals Redefining Project Delivery throughout the United States
Jared Powell, Project Manager with LS Black Constructors has successfully completed the Associate Design-Build Institute of America's comprehensive education and certification testing program to achieve the design-build industry's designation as a nationally certified Associate Design-Build Professional.™ This certification requires a bachelor degree and three years of experience in design and/or construction demonstrated through a functional resume.
DBIA Certification is the nation's only measurable standard of an individual's knowledge of the Design-Build Done Right™ principles vital to successful project delivery. By completing these requirements, which touch on all aspects of design-build, candidates earn the right to display "DBIA" after their names, identifying them to design-build end-users and the industry at large as experienced design-build professionals.
"DBIA's Designated Design-Build Professional™ certification program has grown exponentially over the years mirroring the growth of the entire the design-build industry. In fact, many public and private owner solicitations now expressly encourage the inclusion of team members with DBIA™ Certification in their expanding number of design-build projects. DBIA is proud to offer the industry's gold standard in education and to continue to certify record numbers of dedicated design-build professionals each year." …Lisa Washington, DBIA Executive Director/CEO
DBIA offers certification in design-build project delivery to:
Owners
Architects
Engineers
General contractors
Subcontractors
Project managers
Legal professionals
Academics
Maintaining the credential requires a minimum of 24 hours of continuing education credit every two years.