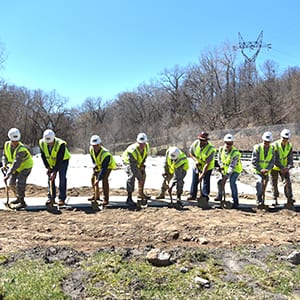 Project Update
Written by Taylor Green, Marketing Specialist
LS Black Constructors alongside the 934th Airlift Wing hosted a groundbreaking ceremony for the Indoor Small Arms Range project on April 19th, 2019 in Minneapolis, Minnesota. This project is represented by the Louisville District, U.S. Army Corps of Engineers.
The Indoor Small Arms Range project, located between Highway 5 and the Minnesota River, includes demolition of the existing outdoor firing range structures and new construction of an indoor firing range building with an administration wing.
Construction includes cast in place foundations, steel column, joist and masonry block superstructure, a state of the art bullet collection trap, and target system with a dedicated indoor range HVAC system. Construction is anticipated to be completed in May of 2020.