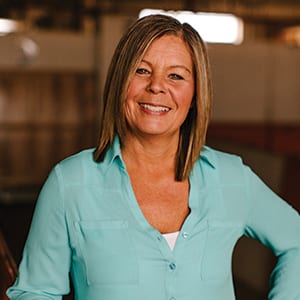 Tammy nelson
Written by Taylor Green, Marketing Specialist
Meet Tammy, LS Black's accounting and finance manager. She is an 18-year veteran with the company. You might wonder what an average day for her looks like, when asked, the answer was there is no average day. Every day is different, and Tammy enjoys the diversity. Her days vary depending what day of the month it is. The middle of month looks very different than the end of the month. 
Tammy also oversees the office operations, making sure everything is running smoothly for the team to get their work done uninterrupted. She plays a vital role in our HR operations as well. She helps all new employees with their paperwork and insurance needs and answers any questions they may have regarding the forms. To say she wears many hats is an understatement.
In the beginning of her career, she credits the smaller-firm atmosphere for her ability to effectively run back-end operations. Tammy has participated in bid days, bid running, front desk operations, human resources, cold calling, executive assistance, and all aspects of accounting. She credits those experiences for her ability to fully understand the construction industry.
Tammy has implemented two different ERP systems for the company. The ERP system is the horsepower behind our entire IT platform. Tammy was one of the key employees to get it up and running. This consisted of very long hours and mountains of data entry, not only did she get it up and running under a tight timeline, there were very few hiccups in the process.
Tammy enjoys coming up with better processes to get things done in a more efficient manner. She loves reporting the company's financials in a timely matter with the most current and accurate information.
To be at a company for 18-years is a big accomplishment. She truly stands by her work and job. "Working at LS Black feels more like family than anything. We employ great people who feel more like family than coworkers." says Tammy. A quote we go by here is "work hard, play hard" which she enjoys. "Our accounting team is a very close-knit group. We have each other's backs and are amazing communicators with each other," her words when describing her team, "you always have to be a team first, if you're not, it's never going to work."
We're happy Tammy is part of the LS Black team.