ARDEN HILLS ARMY TRAINING SITE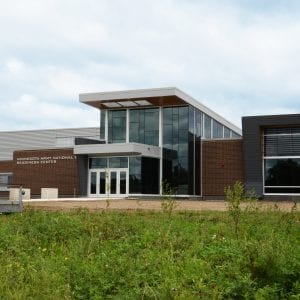 Owner: United States Department of Army & Airforce
Architect: Burns & McDonnell
Location: Arden Hills, MN
Size: 63,000 SF
Value: $18,000,000
Delivery Method: Design-Bid-Build
The Arden Hills Army Training Site and Readiness Center accommodates readiness training for three companies to prepare soldiers to meet their mission requirements. The new facility includes administrative offices, classrooms, kitchen and breakroom, training simulation space, an assembly hall, a weapons vault, a locker room, storage, and vehicle storage / maintenance bay spaces.
The design provides an interior environment that physically and visually separates training and operation spaces from public areas to accommodate community use. The repetitive soaring roof forms and clerestory windows allow daylight to penetrate deep into the facility. Structural design considerations included concrete foundations, load-bearing masonry walls and structural steel roof framing, including trusses in the main lobby, assembly and maintenance areas. The design complies with UFC 4-010-01, including the evaluation of supporting structural elements for blast effects on extensive glazing systems.
This LEED Silver-certified facility was designed to reduce operating costs and minimize the facilities environmental footprint. The project included multiple rain gardens to manage stormwater, geothermal wells for heating and cooling, and the extensive use of "daylight" to harvest natural light. 
Owner involvement with teams from the Department of the Army and Air Force, including the Minnesota Army National Guard, were all key to the successful delivery of this project. The facility meets all Antiterrorism/Force Protection Standards established by the Department of Defense.