ROSEMOUNT SCHOOLS WATERPROOFING REHABILITATION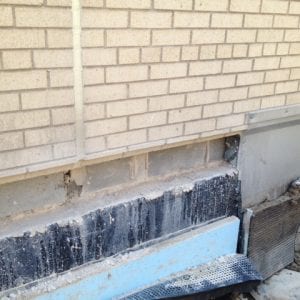 Owner: Minnesota Independent School District #196 – Rosemount, Apple Valley, Eagan Public Schools
Architect: SRI Consultants
Location: Rosemount, MN
Value: $322,000
Delivery Method: Design-Bid-Build
LS Black was hired by the Rosemount School District to rehabilitate the entrance plaza of the Rosemount Middle School and High School. Work also consisted of major water infiltration repairs, which included replacing the waterproofing membrane and exterior brick around the perimeter of the buildings. LS Black self-performed site excavation, pavement and masonry demolition, and installation of the new CMU, flashing, and pavement.
The project needed to be complete prior to the start of the new school year in the fall. Changes to the design late in the preconstruction phase resulted in an initial delay of two weeks. The LS Black team developed an expedited schedule to ensure the completion date could be secured. This proactive communication and planning was successful and the project was delivered on-time.
In addition to the delayed start and already tight schedule, the project encountered numerous delays due to excessive rain during both the spring and summer months. Again, close collaboration with our subcontracting partners enabled us to continue to enforce a Lean project delivery, working efficiently and making up lost time before it became an issue.