HANOVER HISTORIC BRIDGE RESTORATION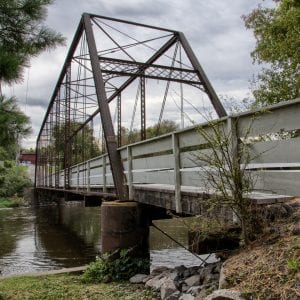 Owner: Hennepin County & Minnesota Department of Transportation
Architect: Hennepin County
Location: Minneapolis, MN
Value: $1,025,000
Delivery Method: Design-Bid-Build
The Hanover Bridge was originally constructed in 1885 to carry traffic across the Crow River and to connect Wright and Hennepin Counties. The Hanover Bridge is the oldest bridge in Wright County and is currently owned by the City of Hanover. In 1965 it was converted to a pedestrian walkway. It is listed in the National Register of Historic Places as a representative example of the Pratt truss design, for which there few existing in the state. Additionally, the bridge is significant for its wrought iron construction and wood truss deck.
The bridge is a three-span structure with a total length of 231 feet. The bridge consists of one 196- foot-long wrought iron, pin-connected, Pratt through truss main span and two 17-foot-6-inch-long timber approach spans, one on each end of the main span. The main span is supported by piers consisting of two cylindrical, concrete-filled, riveted steel plate caissons, paired with the bearings for the truss span. The timber approach spans are supported on timber sills resting on the piers and abutments. The clear width of the deck between railings is 15 feet 5 inches.
The superstructure of the bridge includes: two channel sections of upper cords riveted with a continuous steel top cover plate and batten plates along the lower flanges; the lower chords are punched steel eye-bars; the hip vertical members are forged steel eye-bars; the other verticals consist of two channel sections riveted with lacing bars; the diagonals are punched steel eye- bars; the counters are square steel turnbuckles. Eleven lines of timber stringers with bridging, which sit on the upper flanges of the floor-beams, support the white oak timber plank deck. The built-up floor-beams, consisting of four steel angle sections riveted with a continuous steel plate web, are suspended from the superstructure by means of a steel plate hanging from the pin at the hip verticals and by means of U-bolts at the other panel points. Portal bracing consists of a latticed panel at mid-height of each portal and of turnbuckles between the panel and the tops of the trusses.
LS Black was hired to rehabilitate the existing timber plank deck, replace the chain link fence on each side of the bridge with a timber railing, and install lights and associated electrical work. The goal of the project was to maintain, stabilize and preserve the bridge, allowing it to continue to serve in its existing capacity for 20+ years. In order to replace the timber plank deck the bridge was jacked up, bearings were replaced, and new planks were placed. The team worked hand-in-hand with the city to coordinate the placement of rip-rap and to ensure the projects historic features were maintained.