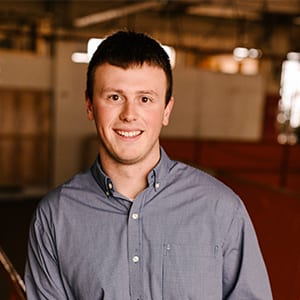 HUNTER MORSCHING
Written by Taylor Green, Marketing Specialist
Hunter Morsching is an intern with LS Black Constructors. Since January he has worked part time while finishing his construction management degree at Minnesota State University, Mankato. After graduation in May, he will become a full-time, assistant preconstruction manager at LS Black working primarily with the Federal division. This past February Hunter was part of a team from MSU-Mankato that competed in the National Roofing Competition that took first place in the competition.
Can you tell us a little more about this award?
My team from Minnesota State University, Mankato qualified for a national competition for the Construction Management program. The competition tested students on their roofing knowledge, project management capabilities, and presentation skills. Our project was to put a new roof system on the Hilton Franklin Cool Springs Hotel in Franklin, Tennessee. Initially there were 11 teams that put together a written qualified bid package and the top five teams made it to oral presentations in Nashville. My team made the top five, so off to Nashville we went. We were the only new team in the competition that made the top five and we ended up taking home first place. It was the first time MSU had placed in any construction management competition! My team received a trophy and an article published in the Business Journal, this also meant a $5,000 scholarship for the construction management program at Minnesota State University, Mankato, which is huge and great exposure for us students and the school. When we returned to campus from Nashville, it was a big deal that we had taken first, we spent numerous hours working outside of class, so it felt nice to be acknowledged for all our hard work.
What went into winning the award?
This was a volunteer effort and was completed outside of class with the other four team members. We spent numerous hours and all semester working on the written proposal as a team and reaching out to others in the community when we didn't know an answer. We had to put together the entire roofing scope, proposal, safety plan, execution plan, site plan, and layout of the project. After we got the written proposal done, we started practicing on our oral presentation. We practiced before we went to Nashville, even presenting in front of a couple classes which helped a lot. When we got to Nashville, we basically locked ourselves in the hotel room and practiced for seven hours. This consisted of multiple practice runs with very blunt and honest constructive criticism by team members, our mentor, and faculty advisor. We went to go see the actual project that was already completed in Franklin. I believe this helped also because we got to see the final product and site. We were also able to visit with the superintendent on-site the day before the presentation and ask him questions that we were struggling with in our presentation. I believe what came down to us winning was our confidence level and the team's camaraderie to win the competition. I have to be honest; I was a little nervous that we weren't going to win after watching our competition, it was stiff!
What did you learn from your team mentors during this process and competition?
Our team mentors were Kevin Palmer and Dr. Brian Wasserman. They each gave us pointers on types of equipment and processes to complete a roof of this scope since they both have experience in roofing. There is quite a bit of a niche in roofing, so it was nice to get exposure to that side of things as well. They also coached us on presentation skills which I feel was a big part of the reason we won thanks to their constructive criticism. A huge thank you to the both of them for being available anytime of the day to help us with any questions we had along the way.
Why did you choose Minnesota State University, Mankato?
The main reason I chose Minnesota State University, Mankato was because it was close to home for me and they have a great construction management program. Mankato is also known across the country for producing quality construction professionals so it really couldn't have worked out any better for me.
Why did you choose to go into Construction Management? How did you know this was the right major for you?
I've been around construction operations from a young age and just knew I wanted to be in the construction industry long term. I have always been more interested in the behind the scenes work of construction like the estimating, procurement, project management, etc. and construction management gives me the opportunity to do exactly that, that's how I knew this major would be a good fit for me. Communication is another thing that comes along with construction management that I like – there are not many other majors where you can talk to a classmate about drywall and enjoy the conversation.
What has been your favorite part working for LS Black?
The mentality of working here is just like at Mankato, everyone gets along and that's been great.  I also can still be in school and work here three days a week, but still be valued right off the bat. They have involved me as a key team member on some of the projects already, that's been a good feeling. LS Black is also a small business, my family owns a small business, so you can tell it's a family-owned smaller company, doing large-scale work. My favorite value is 'team mindset'- just feeling like your part of a team and the bigger picture of where this company is going. This may sound sappy, but it's been one of the best places that I've worked, and I've worked at several other places.
What are your goals for after graduation?
I am a Minnesota boy at heart so would love to stay in Minnesota and start a family at some point. I would also like to travel a bit – this would be possible since LS Black does projects across the country. I just want to continue to learn more and more about construction, it's a passion of mine. As I work on more projects, I'll continue to learn more so it's a good path that I have set up for myself.