Early childhood learning center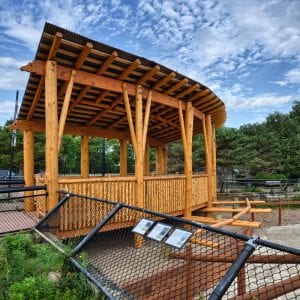 Owner: Ramsey County
Architect: Partners & Sirny Architects
Location: White Beark Lake, MN
Value: $1,100,000
Delivery Method: Design-Build
The new Early Childhood Learning Center at the Tamarack Nature Center, brought a one of a kind early childhood learning program to the City of White Bear Lake and surrounding community. This 3,500 SF learning center was a collaborative effort, lead by Ramsey County who partnered with White Bear Lake Area Schools. The new center provides both preschool and early childhood family education classes that use a unique curriculum focused on immersing children in nature. Each class is led by both a preschool teacher from White Bear Lake Area Schools and an early childhood naturalist/educator from Tamarack Nature Center.
LS Black was hired as the design-builder to create the new wing at Tamarack Nature Center. The new Early Childhood Learning Center project included two classrooms, each featuring fully functioning kitchens and bathrooms. In addition to the 320 acres of outdoor "classroom" throughout the park grounds, the project also provided a new "Backyard" and "Cove" outdoor play and learning spaces, directly connected to the indoor classrooms.
The Center was built using load bearing wood frame construction, a top of conventional slab-on-grade concrete. The wood stud framed walls support engineered wood trusses that form the hip roof structure. The exterior building envelope and shell are constructed of wood and fiber cement siding providing a durable skin that harmonizes with the existing nature center. The pitched hip-roof is constructed from asphalt shingles with deep overhangs. Large expanses of wood framed windows, with insulated glass, provide an abundance of natural light paired with panaramic classroom views to encourage learning and exploration. 
The site was carefully detailed, using native plants and clear space to provide colorful and creative outdoor classroom space.  The space utilizes a mix of hard and soft scapes to bring variety and contrast to best fit the various uses for the areas. The "backyard" is enclosed with a rustic fence, built of reclaimed timber posts and wire mesh, providing separation without impacting views of the adjacent spruce grove.