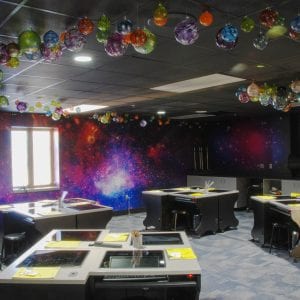 Owner: MN Air National Guard – 133rd Air Wing
Architect: LHB, Inc.
Location: St. Paul, MN
Size: 14,525 SF
Value: $2,000,000
Delivery Method: Design-Bid-Build
This project transformed existing warehouse space into a state-of-the-art educational facility serving elementary students. The goal of the facility is to motivate students to explore science, technology, engineering and math (STEM) at a critical age in their education. Unique features of the spaces include a stainless steel jet engine acting as the receptionist's desk, the wing of an aircraft being used as a table, and a robust laboratory equipt with advanced computers, 3D modeling units and wind tunnel simulators.  
This major building renovation included new water and sewer lines, surface parking, site grading, and new transformer and concreted duct bank installation. The project achieved LEED Silver Certification.